Environmental test, Stability and Climate chambers
Termaks chambers provide an ideal solution for environmental, stability and climate applications. The new developed and refined range offers high reliability and repeatable performance without comprise. Powerful and optimally coordinated heating and cooling technology offers state of the art performance, energy efficiency and low noise. KB series is ideal for the most demanding pharmaceutical, biotech, and industrial use.
The refrigeration system is On Demand and only turns on when needed, reducing heat load and allowing units to run on standard single electrical circuits. KB 9400F has a heatless humidification system that further reduces heat load and energy usage. Lockable casters are standard and levelling feet and access ports among many other customization possibilities are optional.
Termaks also offer Customizations according to your special demands and applications.
Intuitive Controls with and easy to operate touchscreen display makes operating parameters highly visible. Extra features have been built in making it possible to control the Termaks Cabinets through CTS, PC or Gateway. Data logging and full Remote support via Connect allows you to control and program the system remotely, store data and event logs and much more.
The new refrigeration and dehumidification system offers great capacity and reliability. It is constantly controlled via electronic valves redirecting heat/cool upon system request allowing fast adjustments according to settings. Due to the system design the working range is far superior in its standard configuration and provides high RH recovery and temperature stability in its full range.
The humidification system offers high capacity and user friendliness without any requirements of regular maintenance. The system has built in autotest and includes process for self-cleaning in order to avoid unwanted growth. Furthermore, it offers automatic insufficient feed water supply and leakage management.
The series is easy to install, even for facilities without purified feed water supply or nearby drain. Different water feed and drains options available.
The control system is designed in accordance with EN61010 and has been EMC-tested in accordance with EN 60730-1 and EN 60730-2-14.
All Termaks Cabinets have a redundant system, that monitors all sensors and makes sure that a single fault can't cause a malfunction.
Making the best use of valuable space in your lab, Termaks incubators are designed with a very small footprint ratio compared to the interior volume. In addition, the KB series offers very low noise level.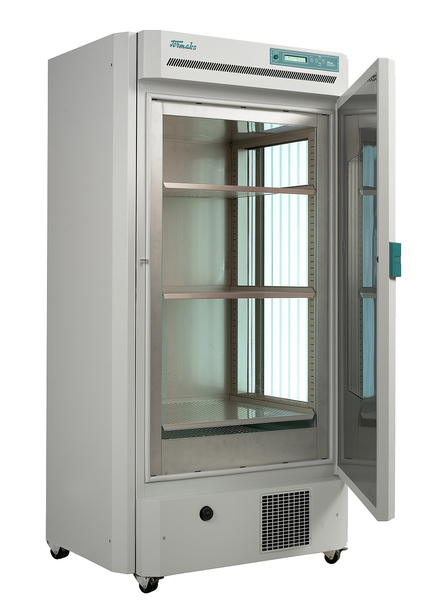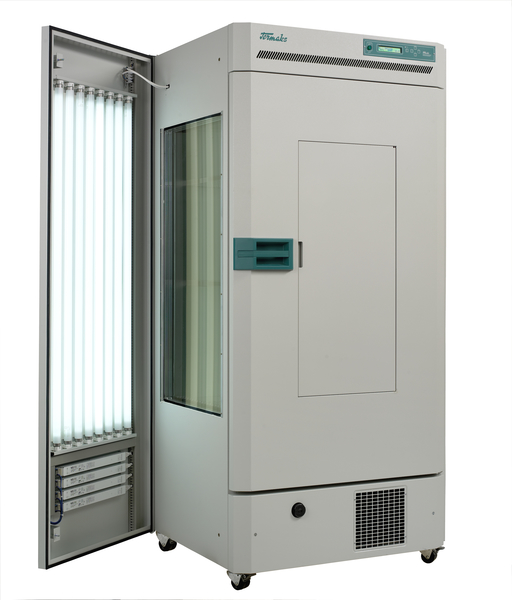 High lights
Temperature range -2°C to + 70°C
2 model sizes (182 and 400 litres volume)
Validatable performance
Dependable temperature and humidity performance, even at high and low ends of the range.
Forced air circulation and air jacket
Safety thermostats and redundant system for maximum protection
Data logging and Remote support via Connect
Access ports for data logging with external sensors (optional)
Tripple glass front window with cover (optional)
Light system, dual side (optional)
Castors, lockable for increased mobility
Touch display Explanatory text – simpler to operate
Extended temperature range -2°C to + 70°C
Extensive humidity range 15-96 % RH
Remote support and logging via Connect
MODBUS communication
Full Installation Qualification/Operation Qualification/Process Qualification (IQ/OQ/PQ) documentation and services available.
Temperature and humidity
Not all climate chambers are the same. The humidity content of the chamber load, the ambient conditions and the respective temperature-humidity working range are decisive factors in the selection of the right appliance. In the adjacent diagram, you can see the possible temperature/humidity combinations for our chamber with humidification system (L).
Within the respective temperature-humidity range, condensation-free permanent operation is possible. To which extent condensation may occur in the threshold range depends on the humidity content of the chamber load and the ambient conditions.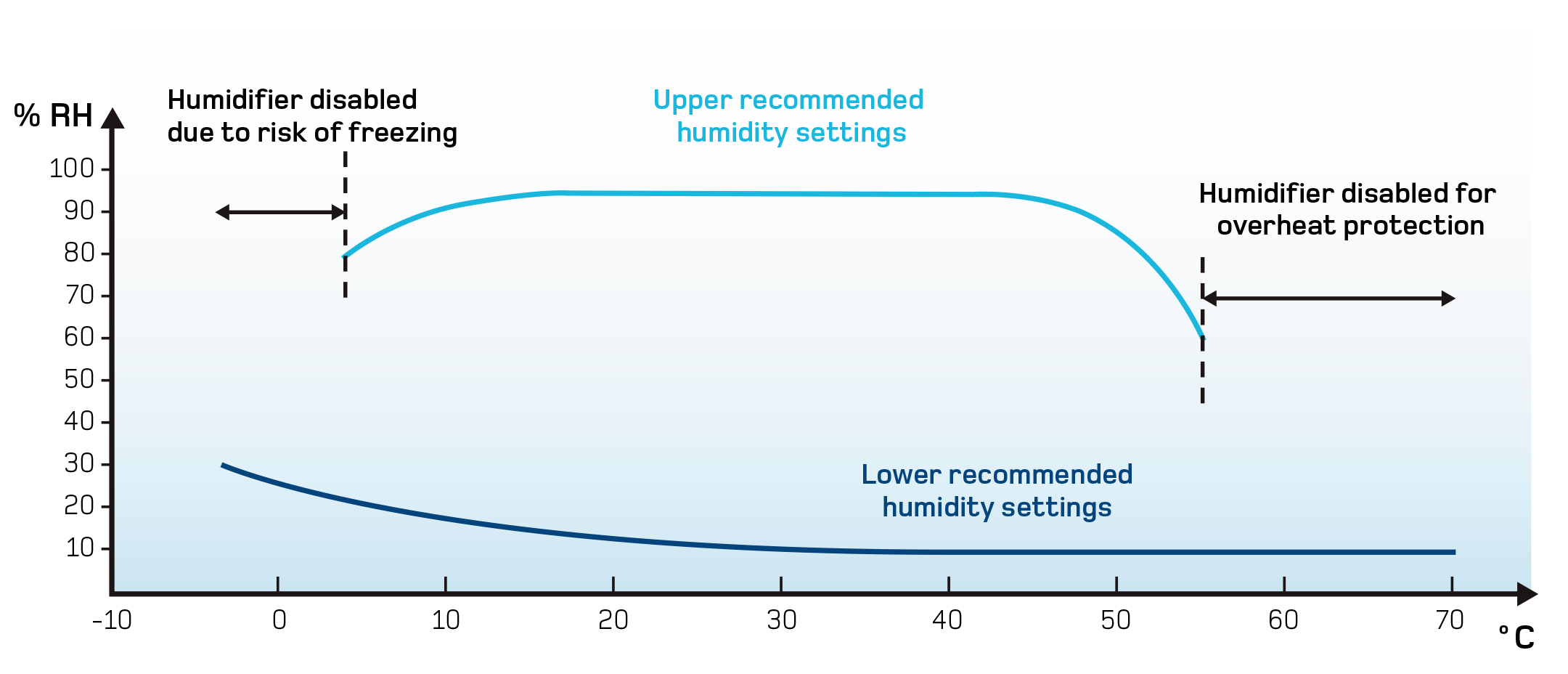 Light, Temperature and humidity
KB 9400 series offers optional Light system for Day/Night simulation. The high-capacity light sources are placed in each side of the cabinet in order to maximize usable chamber space. The system allows up to maximum 25 000 Lux in sides, 12 000 Lux average in centrand is fully programmable with ramping options.
Termaks offers factory optimizations and validation according to specific protocols and demands.
Advantages:
Precise performance
Real time programming
Intuitive and easy-to-use control panel
Temperature, Humidity and Light ramps programmable via display or Connect
High-quality, corrosion-resistant and chamber in stainless steel for easy cleaning
State of the art cooling for a precise and homogenous temperature control
Safety thermostats and redundant system for maximum protection
Reliable
| | KB 9400 L | KB 9400 F | KB 9400 FL |
| --- | --- | --- | --- |
| TEMPERATURE CONTROL | | | |
| Variation + / – ˚C | 0,1 | 0,1 | 0,1 |
| Deviation (spatial) + / – % | 0,2 | 0,2 | 0,2 |
| Readability / Setability ˚C | 0,1 | 0,1 | 0,1 |
| Range ˚C" | -2°C + 70°C | -2°C + 70°C | -2°C + 70°C |
| Sensor "K" | Yes | Yes | Yes |
| Controller | PID | PID | PID |
| Display | OLED | OLED | OLED |
| TIMER | | | |
| Real time program * | Yes | Yes | Yes |
| Remote support via Connect | Optional | Optional | Optional |
| SAFETY | | | |
| Alarm flashing / Acoustic | Yes | Yes | Yes |
| Alarm limit settable ˚C | Yes | Yes | Yes |
| Automatic safety setting ˚C | Yes | Yes | Yes |
| HUMIDITY | | | |
| Humidity variation (time) +/- %RH | – | 2 | 2 |
| Humidity deviation (spatial) +/- %RH | – | 2 | 2 |
| Readability %RH | – | 0,1 | 0,1 |
| Setability %RH | – | 1 | 1 |
| Range setting %RH | – | 1-99 | 1-99 |
| Working range %RH | – | 15-96* | 15-96* |
| Capasative sensor | – | Yes | Yes |
| Controller | – | PID | PID |
| Water quality | – | Demineralized | Demineralized |
| Water feed pressure Bar | – | 1-6 | 1-6 |
| Water reservoir (optional) litres | – | 5 | 5 |
| LIGHT CONTROL | | | |
| Light readability/setability % | 3-100** | – | 3-100** |
| Light intensity in centre Lux | 12000 | – | 12000 |
| Light intensity both sides Lux | 25000 | – | 25000 |
| FEATURES | | | |
| Door gasket silicone | Yes | Yes | Yes |
| Data port, MODBUS | Yes | Yes | Yes |
| Pot free alarm, output | Yes | Yes | Yes |
| SHELVES | | | |
| Standard / Max pcs | 3/22 | 3/22 | 3/22 |
| Dimensions W × D mm | 610 × 580 | 610 × 580 | 610 × 580 |
| Max load pr shelf kg | 30 | 30 | 30 |
| Permitted total load kg | 120 | 120 | 120 |
| HEATING | | | |
| Heating up time to 37°C mins | 27 | 30 | 33 |
| Heat transfer at 70°C W | 65 | 75 | 90 |
| POWER | | | |
| Nominal Power W | 1200 | 1200 | 1200 |
| Nominal voltage V | 230 | 230 | 230 |
| Frequency Hz | 50/60 | 50/60 | 50/60 |
| DIMENSIONS | | | |
| Exterior W × D × H mm | 920×720×1840 | 920×720×1840 | 920×720×1840 |
| Interior W × D × H mm | 630×592×1073 | 630×592×1073 | 630×592×1073 |
| Volume litres | 400 | 400 | 400 |
| WEIGHTS/VOLUME | | | |
| Net weight kg | 210 | 230 | 240 |
| Shipping weight kg | 235 | 255 | 275 |
| Shipping dimensions | 1060x830x2040 | 1060x830x2040 | 1060x830x2040 |
| Shipping volume dm3 | 1795 | 1575 | 1795 |
*Humidifier disabled below +4°C and above +55°C
**Temperature settings are prioritized at low temperatures (factory setting)