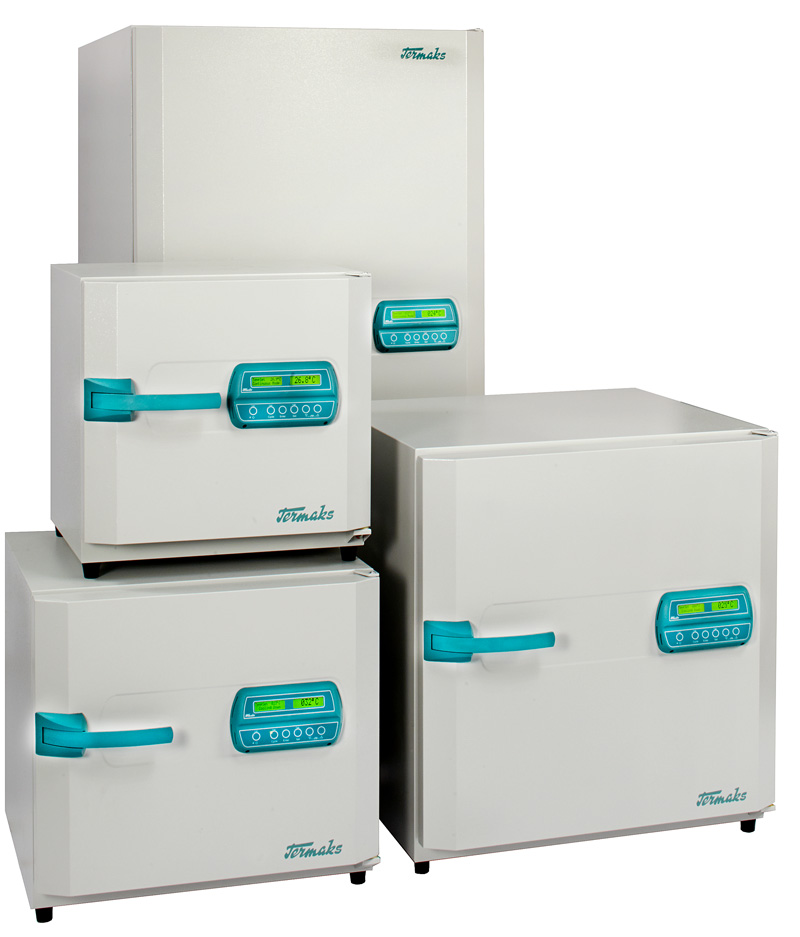 Termaks incubators B-series
Termaks incubators B-series are highly sensitive and very accurate. Ideal for all applications with temperatures up to +80°C and specifically for incubating living cultures at +37 °C. The newly developed control system allows fine tuning at any temperature in the range.
High lights
Temperature range up to +80 °C
4 model sizes (25 to 420 litres volume)
Stackable B9025/9051/9130, optional stacking kit
2 model variants: with or without inner glass door
Decontamination process
Forced air circulation
Safety thermostats and redundant system for maximum protection
Double doors (interior glass for overview without a drop in temperature
Activation of sterilization routine via display or Connect
Access ports for for data logging with external sensors (optional)
Castors, lockable for increased mobility (B9420)
The control system is designed in accordance with EN61010 and has been EMC-tested in accordance with EN 60730-1 and EN 60730-2-14. Termaks cabinets can be controlled via CTS, PC or Gateway allowing data logging, event log and more to be stored The system software can be updated directly on the PCB, through the SD-card slot and it is also possible to upload new setpoint files this way.
All Termaks Cabinets have a redundant system, that monitors the temperature sensor and makes sure that a single fault can't cause a malfunction.
The B-series is also available in a version without inner glass door for hospital applications such as warming textiles and infusion liquids.
Automatic safety thermostat Increased safety – simpler to operate
OLED display Explanatory text – simpler to operate
Touch buttons Extended lifetime in humid surroundings
Software Alternates between two temperatures at specified time, daily or weekly
Extended temperature range Can operate down to 2°C above ambient temperature
Keypad with PIN code Prevents undesirable settings
Potential free alarm contact Can connect to external alarm system
MODBUS communication
Sterilizing cycle Possible to sterilize
Remote support and logging via Connect
Variable fan speed
Advantages:
Precise performance
Real time programming
Intuitive and easy-to-use control panel
Air exchange rates and air valve position electronically controllable
temperature ramps programmable via display or Connect
high-quality, corrosion-resistant and chamber in stainless steel for easy cleaning
state of the art heating for a precise and homogenous temperature control
Safety thermostats and redundant system for maximum protection
Reliable
| | B 9025 | B 9051 | B 9130 | B 9420 |
| --- | --- | --- | --- | --- |
| TEMPERATURE CONTROL | | | | |
| Variation + / – ˚C | 0,2 | 0,2 | 0,2 | 0,2 |
| Deviation (spatial) + / – % | 1 | 1 | 1,5 | 1,5 |
| Readability / Setability ˚C | 0,1/0,1 | 0,1/0,1 | 0,1/0,1 | 0,1/0,1 |
| Range ˚C" | tb-99,9 | tb-99,9 | tb-99,9 | tb-99,9 |
| Sensor "K" | Yes | Yes | Yes | Yes |
| Controller | PID | PID | PID | PID |
| Display | OLED | OLED | OLED | OLED |
| TIMER | | | | |
| Standard hours / minutes | 99h / 59m | 99h / 59m | 99h / 59m | 99h / 59m |
| Real time program * | Yes | Yes | Yesv | Yes |
| SAFETY | | | | |
| Alarm flashing / Acoustic | Yes | Yes | Yes | Yes |
| Alarm limit settable ˚C | Yes | Yes | Yes | Yes |
| Automatic safety setting ˚C | Yes | Yes | Yes | Yes |
| FEATURES | | | | |
| Fan speed steps | 1/10 | 1/10 | 1/10 | 1/10 |
| Door gasket silicone | Yes | Yes | Yes | Yes |
| Glass innerdoor | Yes | Yes | Yes | Yes |
| Data port, MODBUS | Yes | Yes | Yes | Yes |
| Pot free alarm, output | Yes | Yes | Yes | Yes |
| SHELVES | | | | |
| Standard / Max pcs | 2/7 | 2/8 | 3/16 | 3/23 |
| Dimensions W × D mm | 346 × 235 | 434 × 325 | 534 × 325 | 602 × 570 |
| Max load pr shelf kg | 20 | 20 | 20 | 30 |
| Permitted total load kg | 50 | 50 | 70 | 100 |
| HEATING | | | | |
| Heating up time to 37°C mins | 27 | 30 | 33 | 30 |
| Heat transfer at 70°C W | 65 | 75 | 90 | 190 |
| POWER | | | | |
| Nominal Power W | 480 | 480 | 930 | 1430 |
| Nominal voltage V | 230,1~ | 230,1~ | 230,1~ | 230,1~ |
| Frequency Hz | 50/60 | 50/60 | 50/60 | 50/60 |
| DIMENSIONS | | | | |
| Exterior W × D × H mm | 490 × 480 × 500 | 580 × 575 × 550 | 680 × 675 × 750 | 753 × 845 × 1360 |
| Interior W × D × H mm | 350 × 255 × 300 | 440 × 345 × 350 | 540 × 455 × 555 | 610 × 600 × 1180 |
| Volume litres | 25 | 51 | 130 | 420 |
| WEIGHTS/VOLUME | | | | |
| Net weight kg | 20 | 35 | 52 | 120 |
| Shipping weight kg | 25 | 40 | 60 | 140 |
| Shipping volume dm3 | 210 | 350 | 558 | 1280 |